Hybrids
As edentulism becomes more widespread due to an aging population, more patients seek solutions esthetically and functionally superior to conventional dentures. Many clinicians are turning to implant supported dentures and fixed removables solutions to provide premium alternatives to traditional removables.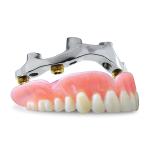 Denture with Overbar
The All-On-4 style treatment offers the esthetics of fully characterized acrylic removables with the security and stability of implant prostheses. Featuring custom-milled titanium denture bars and your choice of locators and attachments, hybrid dentures offer the most affordable hybrid treatment.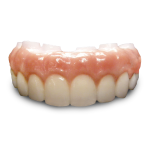 Zirconia Hybrid Bridge
Eliminate acrylic bases and teeth for improved durability and esthetics with the zirconia hybrid bridge. Fabricated from monolithic zirconia and featuring pink porcelain for lifelike gingival esthetics, a zirconia hybrid bridge is a durable and long-lasting alternative to a conventional denture. Fabricated with any number of interfaces necessary, it's compatible with most major implant systems and fully customized to your patient's age, sex and facial characteristics.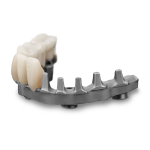 Fully Characterized Titanium Bar
When esthetics are critical, fully characterized titanium bars provide an ideal treatment option. We fit a custom implant bar with zirconia and IPS e.max® crowns for the utmost in realism, and our technicians apply pink ceramic to expertly recreate soft tissue. Compatible with most major implant platforms and developed with any number of interfaces, fully characterized bars allow for ideal treatment for full or partial edentulism.
One Perma-Dent Studio
1 Rockefeller Plaza #2210
New York, NY 10020


Office: 212-757-5430
Fax: 212.757.5477