Fixed
There's no such thing an everyday case to your patients, so we approach even single-unit cases with an attention to detail that ensures our restorations meet everyone's expectations. From traditional solutions to CAD/CAM all-ceramics, One Perma-Dent is here to make you confident in your restorative work and your patients confident in their smiles.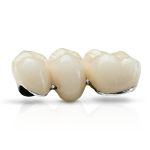 PFM
The longtime favorite ceramic restoration, our porcelain fused to metal features highly esthetic porcelain hand-layered onto a coping cast from your choice of alloy. Preserve more of the natural tooth or prescribe when space is limited because of alloy's superior strength.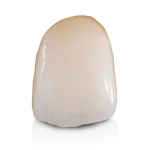 IPS e.max®
Achieve results so lifelike they're suitable for restorations in the facial zone with IPS e.max®. Lithium disilicate restorations provide the most natural shading and translucency, and, when accurately matched to stumpf shades, offer highly esthetic restorations. Pressed to assure the highest esthetics, e.max restorations offer superior durability – up to 400 MPa average flexural strength – when compared to feldspathic porcelain.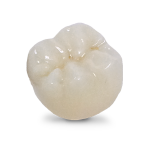 Full-Contour Zirconia
With flexural strengths that exceed 1,200 MPa, full-contour zirconia is the most durable ceramic option available. Available in all 16 Classical Vita® shades for a full range of esthetic options, it's CAD/CAM fabricated for the most precise fit availab.e Because it's more forgiving on opposing dentition than conventional porcelain, it's the ideal all-ceramic solution for bruxing patients.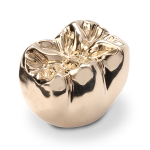 Full Gold Crown
The traditional restoration is still a viable solution in many cases where clearance is limited and esthetics aren't a major factor. The most biocompatible material available, cast crowns are resistant to plaque and bacterial buildup, while being extremely gentle on opposing enamel.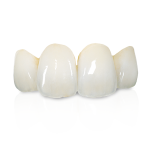 Veneers
Improve smile esthetics while preserving most of the natural enamel with veneers from One Perma-Dent studio. From smile design to cosmetic touch-ups, our veneers are fabricated as thinly as possible to preserve enamel and make bonding easy.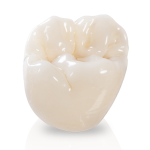 PMMA Temporaries
Give your patients the perfect smile even as they wait for their final restoration with PMMA temporaries from One Perma-Dent. Fabricated from the same design files we use to create the final restoration, PMMA temporaries provide reliable function and esthetics for up to six months.
One Perma-Dent Studio
1 Rockefeller Plaza #2210
New York, NY 10020


Office: 212-757-5430
Fax: 212.757.5477